N1SCO 2015 Australian Series
Words – Warwick Lee /  Photos – John Messenger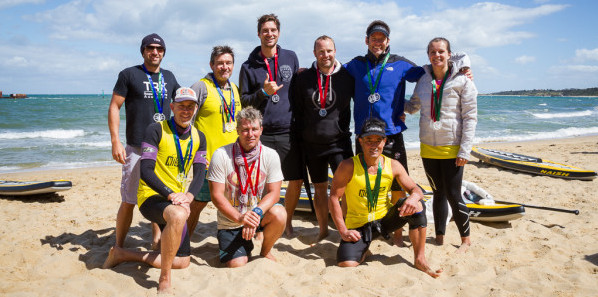 The 2015 Naish International N1SCO racing scene kicked off with the start of the Australian Series. The massive 10 race calender kicked off with the Melbourne round on a not-so-summery, cool day with an on-shore wind producing bop style conditions. Picturesque Half Moon Bay was once again the venue. Fortunately by the time the racing started, the sun did come out to warm up the competitors into racing mode. Challenging conditions  made the competitors work hard with the shorebreak catching even the most skilled paddlers with the wind providing stubborn resistance. The 200m out and back heats were raced with an unusual amount of enthusiasm, given it was a Sunday morning in the middle of an Australia Day weekend. Though it was noted that a new paddler from across the border may have purged the previous night's excesses after the 200m final! The great aspect of N1SCO events is the back to back nature of the format. No standing around, just enough time to regain composure, catch your breath and it's into the next round. The 400m on paper looked easy, but with the waves and wind continuing to buffet the field, it was a case of conserving energy and hopefully riding a wave to the shore, before a beach transition with board in hand and then relaunching back into the brine. Plenty of people were doubled over after the 400m final. So with the sprint events dispensed with, it was time for the 1km time trial. The outer turn buoy was into a cross headwind, and a nice direct line with runners all the way back to the beach.  A good start was always going to be crucial and for the final time, competitors literally threw themselves into the shorey in a frenzy, so as not to paddle in the confused wash of fellow paddlers. Smiles and pats on backs all round were very much the order of the day following the completion of another fantastic event. Massive thanks to JB and Naish Australia for providing the huge amount of resources needed to run this fantastic national series. Many thanks also to RPS The Board Store and Sup Vic for being ongoing supporters of the N1SCO formula. N1SCO events are now in their 3
rd
year and one reason the class continues to thrive is of it's inclusive format for paddlers of all ages in a friendly, fun atmosphere. If you haven't yet been bitten by the bug or experienced how much fun these boards are to paddle, do it soon. Many State and local paddleboard clubs run a fleet of these boards in order help attact people to the sport, so contact them and give it go!
Results
Mens 200M – A Final
1/ John "JB" Messenger 2/ Allan "Baron" Mc Kellar 3/ Warwick "Wooza" Lee
Mens 200M – B Final
1/ Jon  "The Hammer" Sheard 2/ Kal "Killer" Marshall 3/ Damien "Dinger" Quinlan.  
Ladies 200M
1/ Danielle "Action Barbie" Cameron 2/ Kate "Never Fall" Doyle 3/ Ann "Smooth Turn" Thomson.  
Mens 400M – A Final
1/ Scott " Tan Man" Hardiman 2/ John Messenger 3/ Warwick Lee
Mens 400M – B Final
1/ Simon 'The Sledghammer" Albery 2/ Damien Quinlan 3/ Al "Under the Radar" Fairlie.
Womens 400M
1/ Danielle Cameron 2/ Kate Doyle 3/ Ann Thomson
Mens 1km Time Trial
1/ Scott Hardiman – 4m.27s 2/ JB – 4m.33s 3/ Michael "Abbadabba" Abdilla 4m.46s  
Womens 1km Time Trial
1/Danielle Cameron 7m.17s 2/ Kate Doyle 8m.32s 3/ Ann Thomson 8m.37s.
PHOTO GALLERY
[AFG_gallery id='1′]