The SUP Vic Winter Surf Classic series includes three SUP surf competitions and a SUP Surfing 10ft longboard competition.
The aim of the game is some good healthy surf competition for SUP surfers, whilst keeping fun as a priority.
They are also great events for new SUP surfers to attend and learn more about SUP surfing or simply 'give it a go'.
A massive "thank you" to Damien Quinlan, SUP Vic Surfing Coordinator for his work coordinating these events.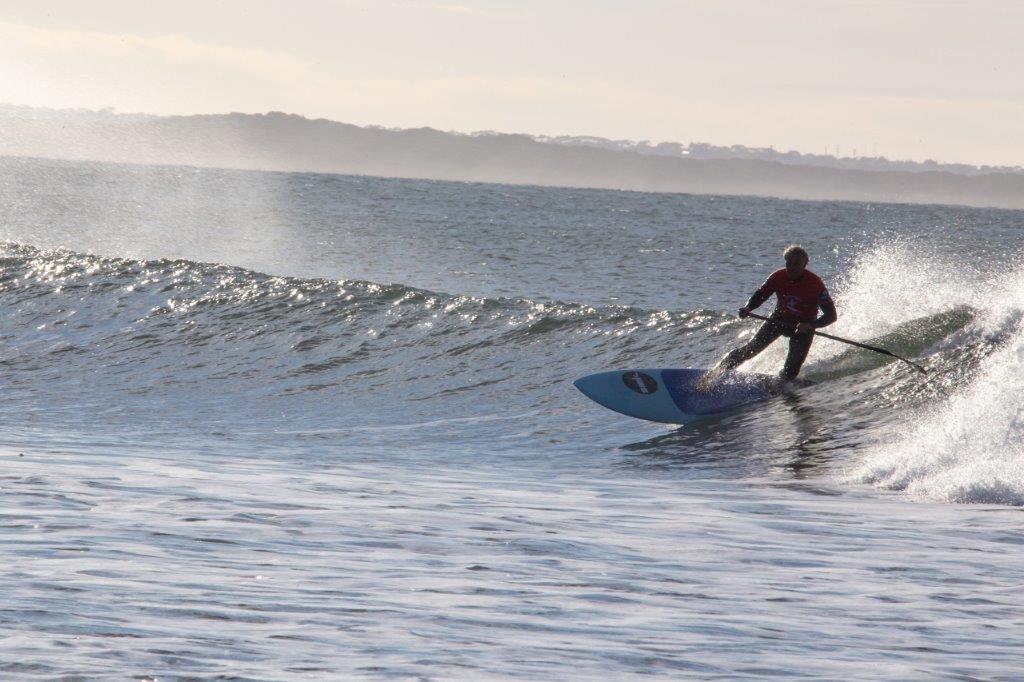 Event Dates 2022:
Point Leo – May 28/29. Aug 13/14. Sep 10/11 (Note: the Sept event is a 10ft longboard competition only.)
Point Impossible – July 9/10

For the Point Impossible event, the club will provide 'live heats' with accredited judges and Surfing Victoria's head judge. Here's your opportunity to compete with a Surfing Vic accredited judging panel.
There are some very cool trophies for the overall winners, men's and women's, at each event from St Andrews Woodwork Scott Hanley.
For each of the event dates we have a weekend window to run the event and will select the best possible days and times based on conditions. In the week leading up to the event we will make the call on Wednesday or Thursday, allowing us time to check the surf conditions to run the event or in the worst case, cancel the event. Please check SUP Vic Members Facebook and emails for updates and start times.   
Entry
Entry for each event is online through the SUP Vic Tidy HQ Events Page.
To ensure a smooth running of the competition on the day, pre-registration ONLY for each event. There will be no registrations on the day. Please check cut-off dates on each individual event page.
Note: There are no refunds for surfers who pull out of an event after entries have closed
On the day
Please ensure you arrive early to prepare yourself for your heat.
Start time and approx. heat times will be communicated before the competition.
There will be a briefing at start of each event, providing you with the judging criteria, rules, hazards and conditions for the day.
Each event can run up to 4 to 5 hours. You need to provide your own water and food and bring warm clothes or a good warm jacket to wear over your wetsuit between heats.
We try to allow all competitors to get a minimum of 2 heats per event. All heats are 20 minutes and the final maybe up to 25 minutes. If you have to leave early or cannot get to the event for some reason, please inform the competition organiser.
Etiquette on the day
The club has a permit and permission to run events at the surf breaks, but we do not have exclusive access to the surf break. Therefore we can only ask other surfers who wish to surf there that they respect our request to move to another break. We will have 'Event in Progress' signs on display. Importantly, there is to be no 'free surfing' during the competition by competitors, club members or friends, as this could both interfere with the competing surfers ability to earn points on the wave  and potentially encourage other surfers to surf in the competition area. And of course, please respect your fellow competitors throughout the event(s). Event rules briefings will be held prior to the first heat.
Judging
We would like all competitors to share in the judging, when we don't have Surfing Victoria judges at events. This a great way to learn about wave selection and analyse other surfers' abilities on the waves. If you are unfamiliar with surf judging, please advise the competition organiser on arrival and we will arrange a 'shadow judge' to help guide you.