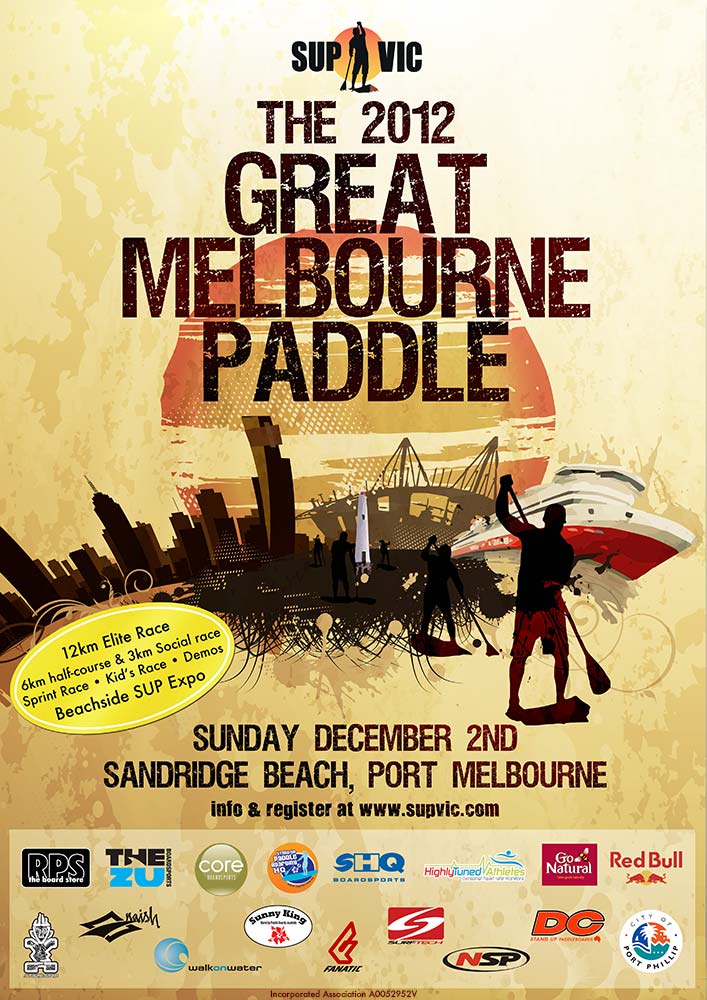 UPDATE: Event Schedule
Here is the current schedule for the day. Please note: you must
PRE-REGISTER online
for the main race (full and half-distance)
click here to register
7:30am – 8:30am
Membership renewals, Race payments, Sign-In for Registered paddlers. *Registered paddlers will receive their race numbers & racing bibs
8:30am
CLOSE OF SIGN-IN. We will be enforcing a strict cut-off time for Race day sign-in and memberships
8:45am
Pre-Race Course & Safety Briefing
9:00am
The Great Melbourne Paddle – Race Start
11:00am
Kids Race
11:45am
Sprint Race
12:30pm
The Great Melbourne Social Paddle
1:00pm
Presentations
the event
December 2nd 2012 will see the staging of the 3rd annual Great Melbourne Paddle. Now established as a major event of the summer series, catering to all paddlers in the Bayside area and beyond, the Great Melbourne Paddle attracts a large contingency of paddlers from around Victoria, and also sees paddlers from interstate and abroad travelling to compete.

The location for this years event will be
Sandridge Beach, Port Melbourne
, a departure from the traditional home of the race in Brighton. This historic and scenic location offers great views for paddlers of the Spirit of Tasmania, Princes Pier, Beacon Cove, the Westgate Bridge and of course the Melbourne city skyline as a backdrop. With plenty of passing spectators and great exposure for the sport, this new location really brings home the fact that it is truly a Great race for Melbourne. The location is well protected, offers a myriad of great viewing positions for spectators, and offers a 3km circuit for paddlers of all levels.
the course
The main race will start between the first two rockwall groynes, 200 metres east of the Sandridge Surf Lifesaving Club. Paddlers will head out to a permanent yellow buoy, 5oom offshore, turn left and head for the end of the old Princes Pier.  They then go around the end of the Princes Pier and head into Beacon Cove and do a 180 degree left-hand turn around the old light house and then back around Princess pier.  Once around the end, they then turn right and follow the pier in towards shore to a marker buoy, where they will turn left, and follow the shore back to the end of groyne #2 and into the shallows of the beach starting area, where they will have to turn in shallows before heading back out for the next lap.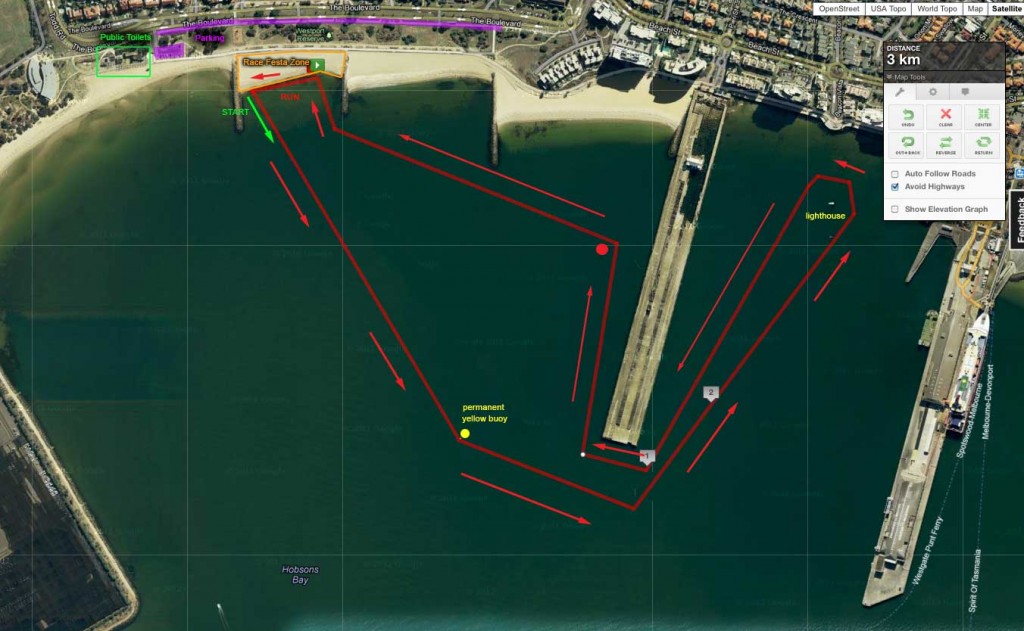 Competitors will do up to 4 laps, making it a 12km course. When the lead paddler completes their 4th and final lap, all competitors will then complete the lap they are on, regardless of how many laps they have completed.  Therefore if the lead paddler has lapped you, then you will complete your 3rd lap. This will help to keep the momentum of the day moving along. Paddlers not wanting to take on the full 12k course can elect to only do the 'half distance' of 2 laps which would be run concurrently starting a few minutes after the 12k start. With an emphasis on participation, all paddlers are welcome, even if they complete a single lap, catering for all levels of paddler and board style.
Distance Race Categories
(* denotes Vic Flat Water Series Recognised Division)
*Men's Open (14′ maximum board length)
*Men's Masters (Over 40 Men's)  (14′ maximum board length)
*Men's Seniors (Over 50 Men's)  (14′ maximum board length)
Men's Unlimited board length (over 14′)
Men's 12'6″
Men's 11'6″ and under (non-race type)
*Women's Open (12'6″ maximum board length)
*Women's Masters (Over 40) * (12'6″ maximum board length)
Women's 14′
Women's Unlimited board length (over 14′)
Women's 11'6″ and under (non-race type)
*Junior Boys  (12'6″ maximum board length)
*Junior Girls  (12'6″ maximum board length)
sprint race
New for this year will be the addition of the Sprint race which will be a 'no holds barred' drag race of 500m with no turns and no classes or board length category. It's grab what you got, head down and paddle like hell!  First male and first female across the line will be recognised, regardless of age, board length or shape.

social paddle
This year, the Social paddle which will be a true social paddle with the aim to have everyone on the water together in an endeavor to get one of the biggest group of paddlers on the water that Australia has ever seen.  This is all about enjoying the day, paddling together, and helping and supporting all the other paddlers around you. This range of events aims to cater for every paddler from children, beginners, novice and non-race board paddlers, through to the more competitive 'elite' racers.
kids paddle
Next up will be the Kids race for 12 years and under which will be about having fun and getting involved.  The course will be determined on the day, but will be within the rockwall groynes, close to shore.  All children will receive participation awards.

SUP expo
Part of the Great Melbourne Paddle this year will be a foreshore 'festa zone' expo, with retailers, distributors and manufacturers of SUP boards, paddles, gear and associated services will be invited to set up their tents on the grass area adjacent to the competition zone, along with food and drinks vendors, to make this a true festival atmosphere, and give everyone a chance to check out what's new for 2012-13 in SUP.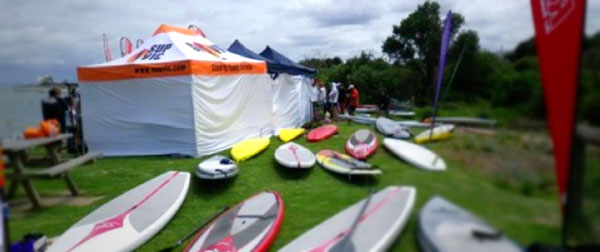 safety
• All paddlers under the age of 10 must wear a PFD (personal floatation device) type 1, 2, or 3 at all times when paddling.  We encourage all kids to wear a PFD. • All paddlers who are paddling the race course must wear a PFD as the course is more than 400m off shore.  New safety laws mandate that SUP paddlers more than 400m from shore must wear a PFD. • Legropes are required for all paddlers. • Safety marshalls and boats will be on patrol, however we will also be implementing a policy of safety first, where any paddler who sees someone in distress should, regardless of their place in the race, put the safety of other paddlers ahead of any competition.
registration
All paddlers must pre-register online at
https://www.supvic.com/registration
There will be no on-the-day registration for paddlers in the elite race.  If you do not register, your placing and position will not be recorded, and you will not earn points towards the Vic Flat Water SUP Championships. Social paddle and children may register on the day from 9:30am, after the commencement of the main race.