On Monday the 12th March 2012, RPS The Boardstore in conjunction with SUP VIC, staged a world-first side-by-side test of 14′ current model production stand-up paddleboards available to buyers here in Melbourne. It is important to note that not every 14′ board in the world could be included in this test as we do not have access to all makes and models locally. Furthermore, the conditions decreed that this would be a flat water test and therefore unavoidably favours boards intended for flat water racing. We do not apologise for any of this, however we welcome other groups conducting their own tests in different conditions using other boards as it all adds to the global knowledge base. Anyhow, on with the test… 14 boards, 14 paddlers and a beautiful sunny Autumn day in Melbourne… the scene was set.  Warwick from RPS and PT from Sup Vic had done the lion's share of organising the event, and as you can imagine, the logistics of gathering as many current model boards as possible, from Starboard, Naish, NSP, Fanatic, Bark, DC, JM, & Sunny King was no mean feat, and much kudos due. The test run was done at Half Moon Bay, on Port Phillip Bay in Melbourne.  The course was a 150+150m run with a 180 degree turn at one end and a standing start.  Each of the 14 paddlers randomly drew a board out of a hat, (yes, literally) to determine the board selection at the start of each round.  They were timed manually using line of sight to determine the start and end crossing.  Each paddler proceeded to the starting mark and from a stationary start, were counted-down 3-2-1-Go!  The starting procedure and stopwatch were consistent throughout the day, with Stuart Thomas acting as chief timekeeper. Each round, the times were marked down, all paddlers returned to shore, and drew the next board from a hat.
THE BOARDS:
(click on name to see image)
DC 14
– 14'x30″ 15.2kg
Fanatic Fly Race Flat
– 14'x27″ 11.2kg
Fanatic Fly Race Open
– 14'x28″ 15.3kg
Naish Glide
– 14'x27″ 14.1kg
Naish Javelin
– 14'x26″ 13.2kg
NSP
– 14'x28″ 14.6kg
Starboard Ace 25
– 14'x24″ 13.4kg
Starboard Ace 27
– 14'x27″ 15.7kg
Starboard Ace Pro
– 14'x28″ 10.8kg
Starboard Pierce Touring
– 14'x30″ 12.5kg
Starboard Open Ocean
AST – 14'x28″ 16.3kg
Sunny King
– 14'x30″ 17.4kg
Surftech Bark Dominator
– 14'x28″ 11.5kg
Surftech JM Paddleboards
– 14'x29″ 15.3kg
THE TEST:
The day started with calm, flat, still conditions, and built throughout the day to a 5-10kn SE wind, that produced a first downwind leg followed by an upwind return after the turn. Firstly, the raw data…
(click on the image to view large)

Tabel 1: Raw Data with separated incomplete runs & accumulative times
In this table, we have collated the times of every paddler on each board. You will notice that some paddlers have received a zero time on certain boards. The reason for this is that one paddler sustained an injury late in the test process and had to pull out. Another had a pressing engagement and had to leave early. Another suffered from a timing failure in one run, and another accidentally paddled two boards twice and then failed to paddle two of the boards. We also had one paddler fall on one of the runs and the time recorded in that run appeared to be an unfair handicap for that board. With all these factors in mind, the accumulated time for each board across 14 paddlers is somewhat misleading, given some boards have times from 14 paddlers, some from 13 and some from 12. Therefore, in tabulating totals for each board, we have removed the times recorded by the paddlers who did not complete a time on all 14 boards. That leaves us with an accumulated total from 9 of the paddlers. We feel the integrity of the results is still maintained as the 5 incomplete paddlers were not by any means the slowest or heaviest paddlers, and a good cross section remains. However you are certainly free to analyse and postulate on the results from the raw data as you see fit. So what does that mean?
10 FASTEST RUNS 
(based on the pure raw data)
1:52 – CAMO on the Starboard Ace 25″ 
——————————————————–
1:54 – LIGHTNING on the NSP
1:54 – CAMO on the Starboard Ace 27″
——————————————————–
1:56 – CAMO on the Fanatic Flat
1:56 – LIGHTNING on the Starboard Ace Pro
1:56 – WOOZ on the Naish Javelin
——————————————————–
1:57 – LIGHTNING on the DC14
1:57 – LAZZA on the JM
1:57 – LIGHTNING on the Bark
1:57 – LIGHTNING on the JM
——————————————————–
So it's all good and well to say that this board or that board was the overall fastest board, but what does this mean to you? Probably of greater benefit is not so much knowing which board went fastest for an elite paddler, but rather, which board is best for you. Hopefully these results can help you choose, but the best advice we can offer is demo, demo, demo. Use these results to help you decide which boards are most likely suitable for you. Check out the paddlers in the test whose height and weight most closely matches your own and see which boards they set the best times on. You will find next to each paddler is their weight in kilograms and their height in centimetres.
PADDLER PROFILE & RESULTS PER BOARD
Importantly, this shows what ORDER in which each paddler rode the boards, so you can see the accumulative effects of fatigue and rising wind throughout the morning.  It also shows what height and weight each paddler is, and on which boards they posted their best times.  We will leave it up to the reader to make allowances for the later times and fatigue, etc.  Paddlers are listed in alphabetical order.
(Click on chart to enlarge)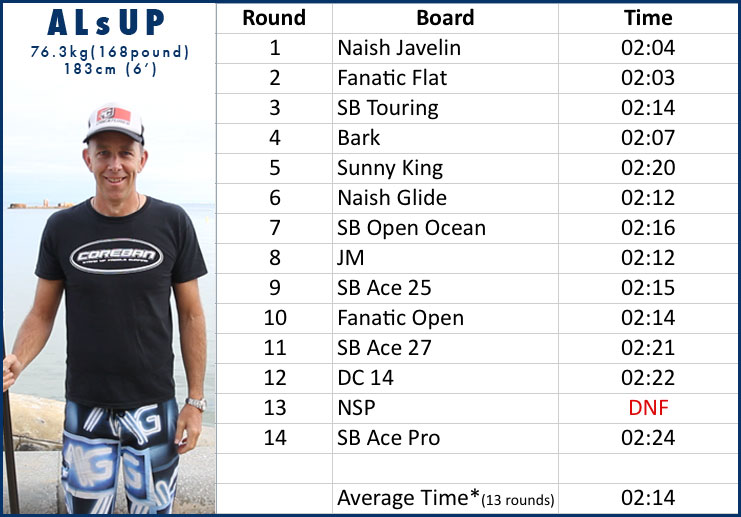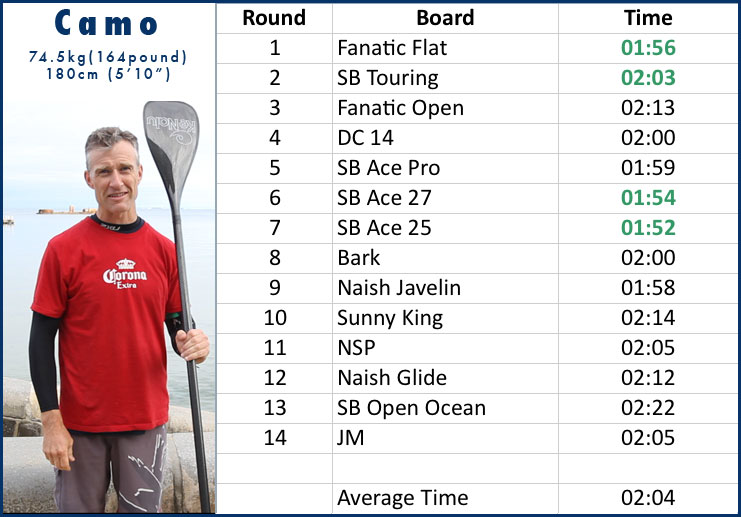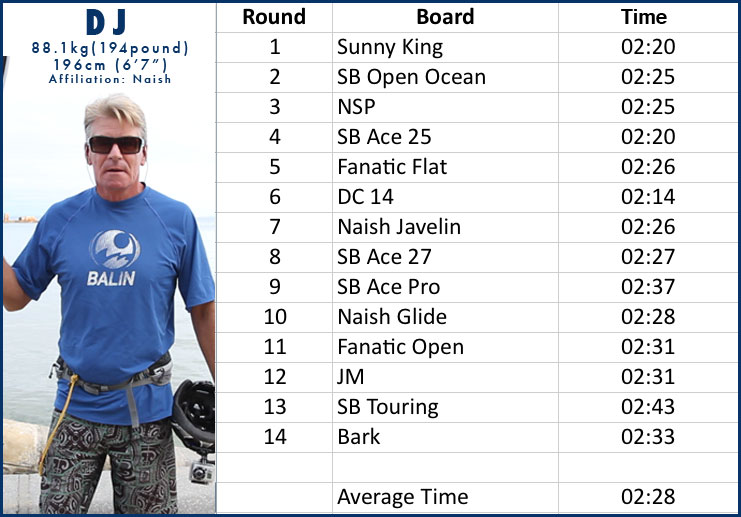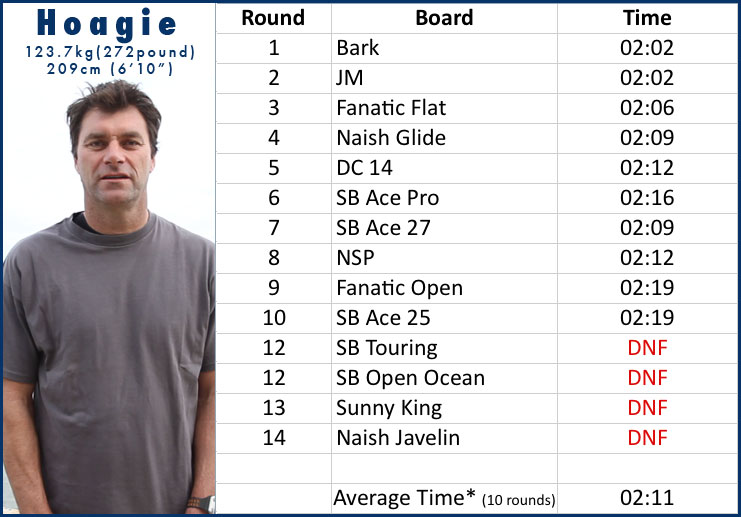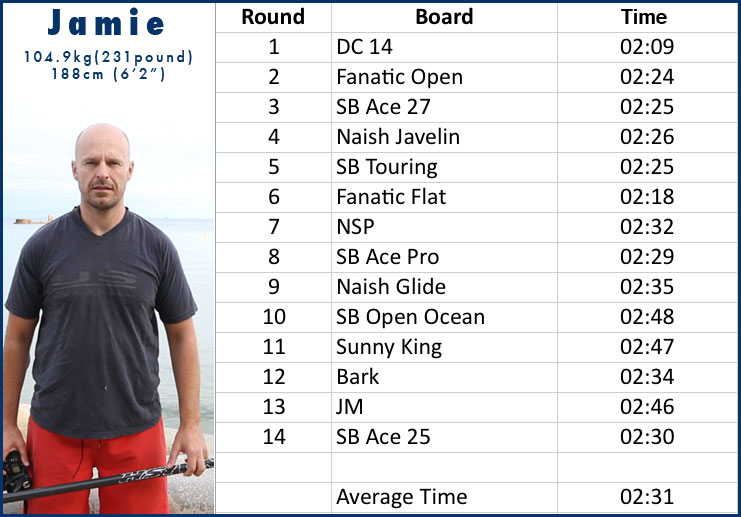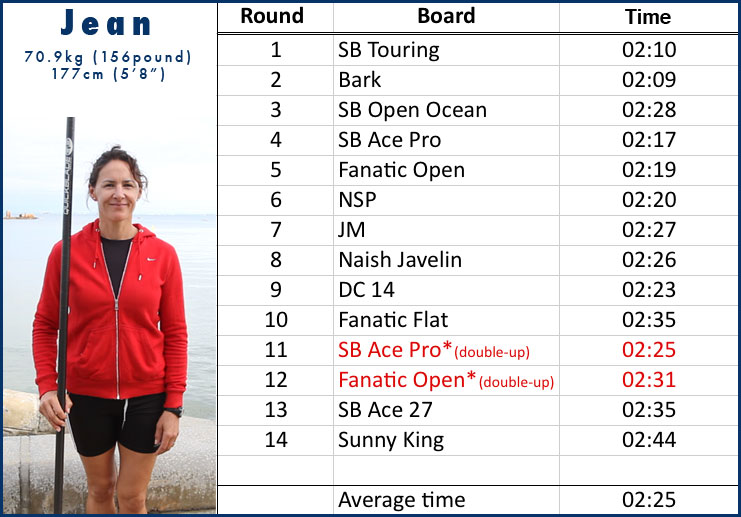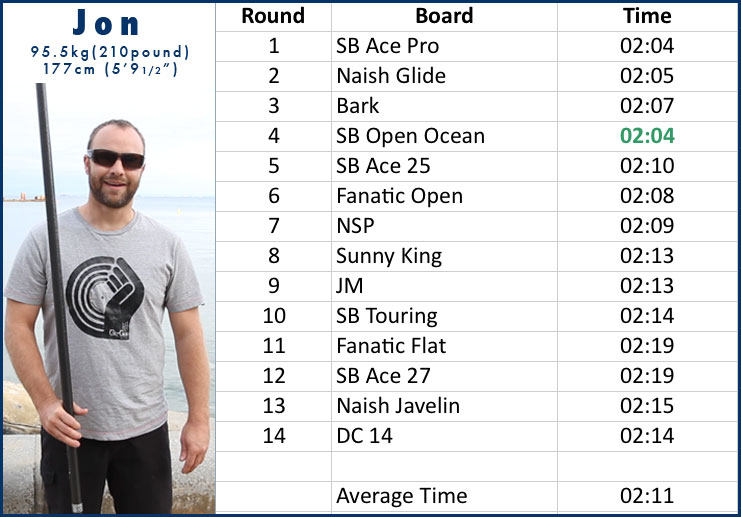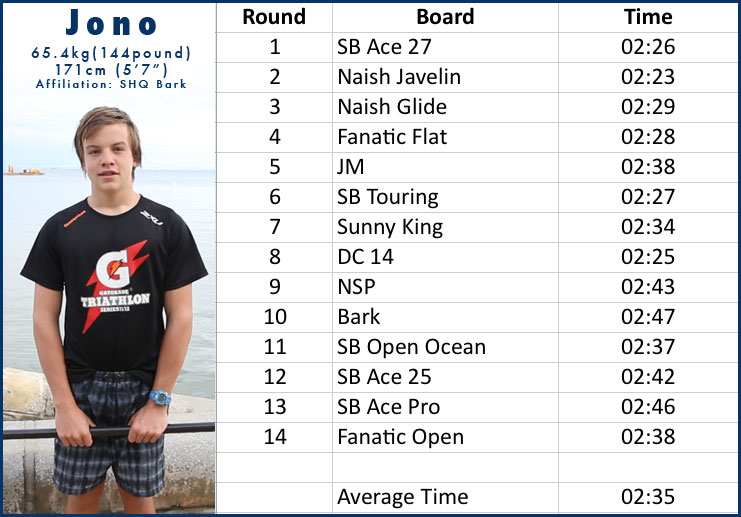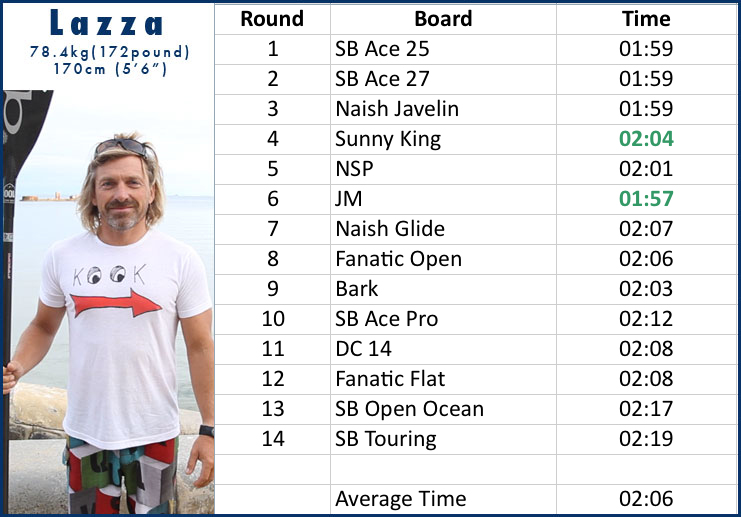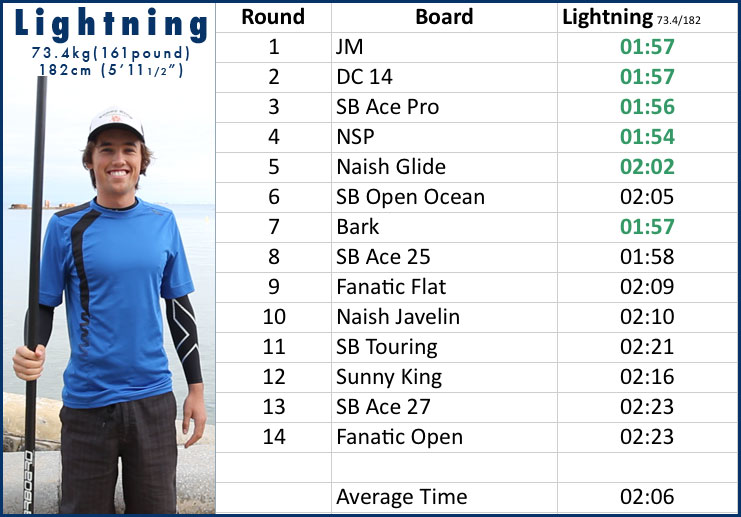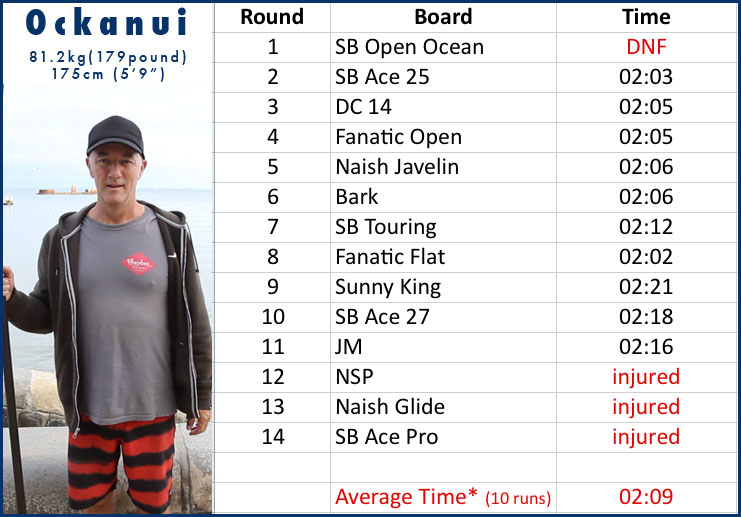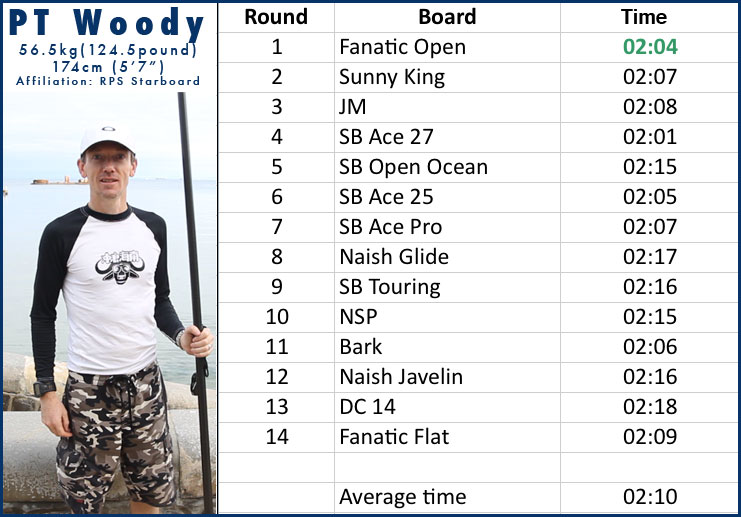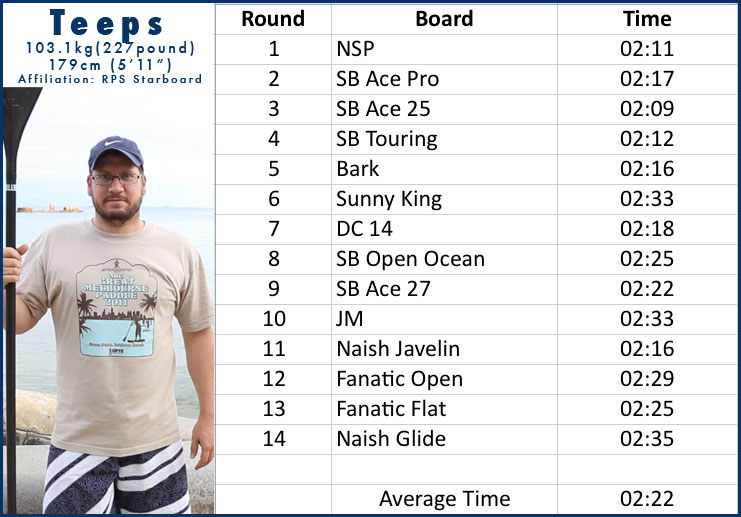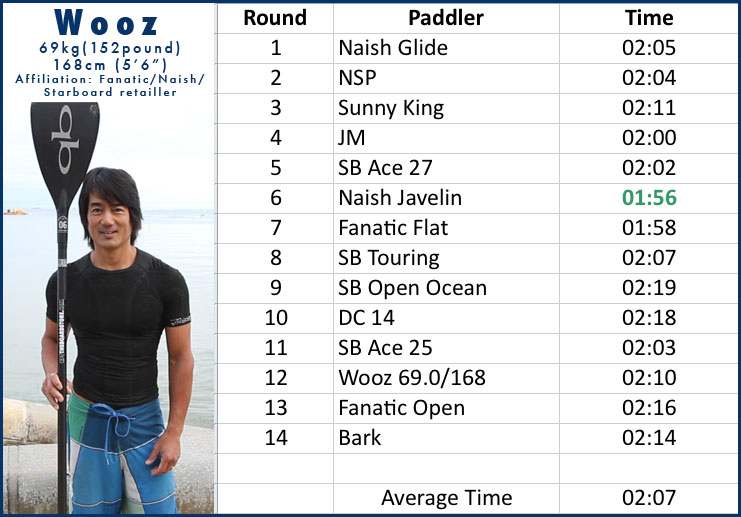 So here is another chart, this time showing all the boards with the fastest time recorded for each board, hilighted in blue.
(click on image to enlarge)

We will leave it up to you to read into this as you will, and many assumptions and conclusions will be drawn from this. It has been our pleasure to produce this test and on behalf of RPS and SUP VIC, thank you for your attention.
– SUP VIC & RPS
Times and charts collated by SUP VIC, based on data independently collected by Stuart Thomas.</>