Sunday 14th October – Half Moon Bay, Black Rock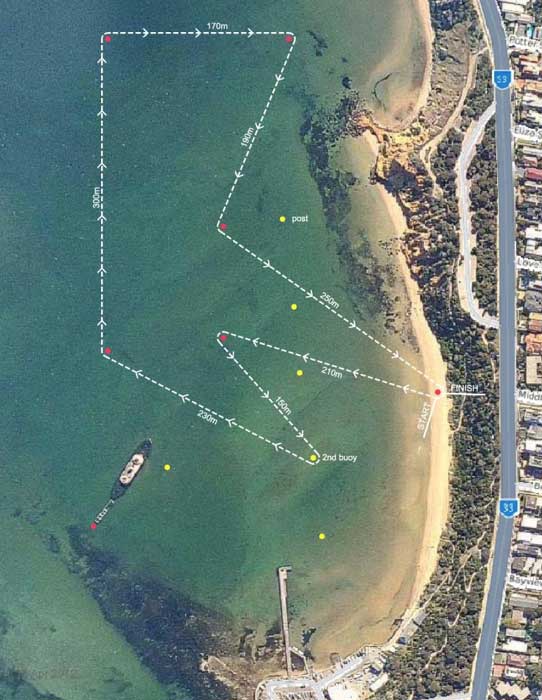 Editorial:
What a glorious Melbourne spring morning greeted us all as we rocked up (pun intended) to Half Moon Bay for the inaugural Black Rock BOP presented by our friends (and great supporters of SUP VIC) RPS The Boardstore, who maintained their tradition for offering varied, interesting and fun race events.
What really got me was the level of participation for an October morning. Yes, the weather was a blessing, and a departure from past weather conditions at RPS events (we call it the RPS curse!), but the Melbourne Marathon had blocked off many of the roads across Melbourne, and so it was really pleasing to see so many, from all ages and level, turn out.
Big kudos to Warwick at RPS for catering for everyone with his 'handicap' system, allowing everyone to essentially race head to head, which saw beginners, intermediates and elite paddlers all competing for line-honors, albeit with their respective handicaps. It really added an energy and a sense of community to the day.
The course, designed by Dean Elcoat (Owner-Manager at Ke Nalu Australia and designer at Walk On Water) was a good mix of technical turns and flatwater straights, in a 1.5km+ circuit. The series of short and sharp races gave everyone a chance to catch up and compare notes, create friendly personal rivalries, race after race, and compete against yourself in subsequent races.
The SUP VIC crew were helpful and dedicated as always, their from early morning to help set-up and staying until everything was cleared away.
But overall it was the friendly nature of everyone having a go, swapping boards and shaking off the cobwebs of winter.
A stellar start to the local race scene.
– Tim Patterson, SUP VIC
Race report and results:
The first race of the 2012/13 season surprisingly was held in summer-like conditions. A field of 40 competitors was surely a record for a race so early in the season and it was obvious that more and more people are now paddling all year and not shunning the colder winter temperatures.
The past 3 years has seen a short course, 1 hour format, so it was decided this year to change the race series to a revised bop style course , consisting of 4 or 5 back to back races. Apart from the usual mens/womens/kids categories there were intermediate and advanced classes introduced.
With a time handicap separating the paddlers, there were sure to be some close finishes.
Dean Elcoat had designed a 1.5km course that included a few tight turns as well as some sweeping ones.
The handicapped starts meant everyone got away to a nice clean start and there was less congestion at the turns. There were still plenty of minor incidents that helped keep the racing fast and tense.
Back on the beach after each race there were plenty of smiles and exchanging of race tactics. Just as everyone started getting their breath back the 2 mins to go hooter would sound and the first wave of paddlers were lining up again at the water's edge. Every race saw the entire field fairly tightly bunched bearing down on the finish. In 3 of the races, only seconds separated the top paddlers from the int, adv and ski sections.
After 4 races, with Cam Hosking and Luke French [ who are also Victoria's 2 top-ranked paddlers] tied on 2 race wins a piece, it was decided to run a 5th and deciding race. The race was once again a neck and neck affair with nothing between the two over the 1.5km course. For some reason Cam decided to carry his board over the line to be narrowly pipped by a quick thinking Luke who leapt off his board in shin deep water and just cross the line first. Amazing!
After the racing had been completed, people were happy to hang around and try a few different boards including the new Walk on Water 12'6"and 14 as well as Warwick's new Naish 14 x 23"LE.
Results from Race 1
Advanced
1st Luke French / Fanatic 12'6" 2nd Cam Hosking / Walk on Water 12'6" 3rd Chris Clarke / Fanatic 12'6" 4th Dean Elcoat / Walk on Water 12'6" 5th Tom McQueen / Walk on Water 14
Intermediate
1st Jono Kale / Bark 12'6" 2nd Tim Patterson (inj) / Starboard 12'6 Race 3rd Richard Coyne / Starboard 12'6"
Ladies
1st Jean Ringrose-Coyne / Fanatic 12'6" 2nd Jan O'Keefe / Walk on Water 12'6" 3rd Kirsty Hunt / Coreban 12'6"
Over 50's
Michael Jenkins / Fanatic 14
Kids
1st Emmy Fredirico / Coreban 12'6" 2nd Renee Lee / Starboard 12'6" Thanks to all of the help from the crew from Sup Vic and the HMB paddlers before, during and after the day. –
Warwick Lee, RPS The Boardstore
Photo Gallery: