http://www.supvic.com/wp-content/uploads/2013/06/featured-image.jpg
497
761
SUP Vic
http://www.supvic.com/wp-content/uploads/2013/06/SUPVIC_Logo_B.png
SUP Vic
2013-06-16 17:28:53
2013-06-16 17:33:42
SUP VIC Autumn West Coast Classic VIDEO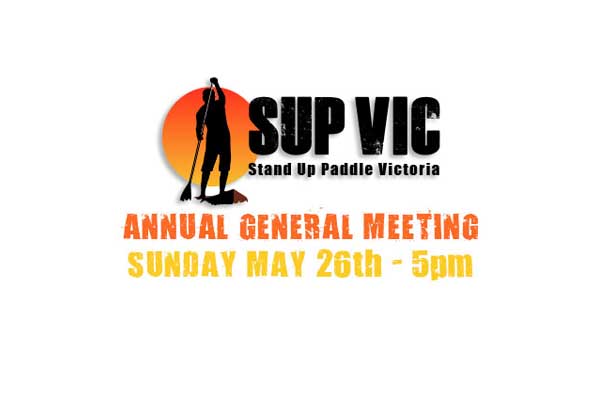 The SUP VIC annual general meeting was held recently, the minutes of which are attached (with thanks to outgoing club Secretary Ross McClure).
Also available below are the 2013 annual report and the financial report.
Most significantly, your new committee elected at the meeting is as follows:
President – Paul Harrington
Vice President – Tim Patterson
Secretary – Stuart Thomas
Treasurer – Rob Wong
– David Peterson (Social)
– Warwick Lee (Racing)
– Alan Fairlie (Racing)
– Dean Elcoat (Surfing)
– Kathy Naoumidis (Social)
There is one vacant committee position which has been earmarked for a member of the surfing sub committee to fill.
>As a committee, we look forward to organising a range of events to cater to all members over the coming year. We will be particularly focussed upon creating new social paddling events, additional surf events, and we will endeavour to ensure that the race season contains a number of family friendly events for all levels of paddling skill.
To this end the committee members have each nominated a subcommittee that they wish to be part of; RACING, SURFING & SOCIAL.  Any general members who wish to be part of these sub-committees, please contact us and we will put you in touch with the relevant parties.
We will be pleased to bring you more details of these forthcoming events as they come to hand.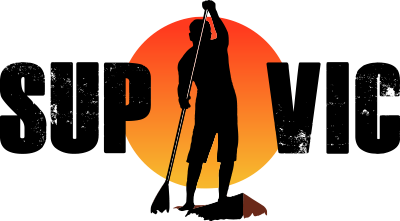 2013 Annual Report
President – Paul Harrington Secretary – Ross McClure Treasurer – Rob Wong Committee –   David Peterson Dave Hunt Warwick Lee Alan Fairlie Tim Patterson Jean Ringrose Janette McMaster Stuart Thomas Michael Jenkins In many respects, 2012/13 has been a great year of consolidation and growth for SUP VIC. We have seen a steady increase in membership numbers, revenue is strong, and participation rates at both surf and race events have been very encouraging. The year in Racing has seen a fascinating evolution of the sport. On the one hand, we have been blessed with the support and opportunity from an ever-increasing number of events both within and outside of our organisation. The SUP VIC Flat Water Championship took on two additional races this year, enjoying fruitful collaboration with Peninsula SUP and SUP Australia, as well as the Outlaw Paddling organisation. We were also invited to participate in the Gippsland Lakes Marathon, a multi-paddle-sports event, much like the Outlaw events. More recently, we have become a fully-fledged class within the Canoeing Victoria marathon series, which has been very exciting and bodes well for the future. Our flagship race event, the Great Melbourne Paddle was moved from it's traditional location between Brighton and Sandringham due to a triathlon schedule conflict. The event was staged at Sandridge Beach in Port Melbourne, which turned out to be a blessing, with the location proving to be ideal for the beach fiesta atmosphere that was created. It was a credit to Race Director Alan Fairlie and the sub committee who organised the event. A special note of commendation to Tim Patterson, who negotiated the waiver of an unexpected $1200 event permit fee that we received some time later. Another new initiative instigated by club member Dean Elcoat has been the regular formal race training sessions held at Half Moon Bay. Participants are reporting significant gains in fitness and performance. On the flip side of all this growth in racing, we have witnessed a 15% drop off in participation at some of our traditional bayside events over the summer. No doubt an unlucky run of weather played a large part in this, though we are also taking into consideration the fact that too much attention and enthusiasm for high end and serious racing has potentially disenfranchised the more social and casual participants. As we endeavour to continually improve our programs, we will factor this into future planning to cater for all levels of experience and demand. On the Surfing front, we have seen the greatest seachange, or so to speak. Of course, the annual Inverloch Surf Weekend was a great success as always, and even though conditions weren't ideal for the entire 2 days, the organisers were flexible enough to ensure that everyone had fun and caught at least a few waves. Kudos to the event sub-committee, Ross McClure, Cam Hosking and Brendan Nachtigal. But the biggest news in SUP Surfing in Victoria has come about through the formation of the SUP VIC Surfing Sub-Committee. The early fruit of this new initiative was the outstanding SUP VIC Autumn Classic at 13th Beach. Essentially pulled together in just a couple of weeks, the event's great success was a testament to the dedication of Phill Page in particular, along with a sizable crew of volunteers. Congratulations to Lucy Bell and Courtney Dalton as the inaugural winners. A good number of SUP VIC members have acquitted themselves extremely well at a State and National level over the last 12 months. At the Surfing Australia National Titles in Port Macquarie last August, Kristi Page secured 4th place in Women's Open surfing, John Takle was 4th in Men's Over 40s surfing, and Cameron Hosking took out 4th in Men's Over 40s marathon racing. Congratulations to Kristi, John and Cam on their outstanding achievements, and to all the Victorian team members for representing the state and club with such pride and distinction. Let's hope this is the foundation upon which Victoria can build and eventually dominate at national level. More recently, the Surfing Victoria state titles were held in marathon race and surfing disciplines. The following new state champions were crowned for 2013: Open Women's Surfing – Kristi Page Open Men's Surfing – Matt Takle Over 40 Men's Surfing – Leon Blachos Over 50 Men's Surfing – John Takle Open Women's Marathon Racing – Jean Ringrose Open Men's 12'6" Marathon Racing – Chris Clarke Over 40 Men's Marathon Racing – Cameron Hosking Over 50 Men's Marathon Racing – Warwick Lee Open Men's 14' Marathon Racing – Tom McQueen Best of luck to our state champions along with the representative state team at the 2013 national SUP titles on the Gold Coast in November. Another new initiative for 2013 in which SUP VIC took a leading role was the establishment of AuSUP – or Australian United Stand Up Paddling, which is recognised by Surfing Australia as the National advisory body for SUP. It is made up of State representatives from the Surfing Australia affiliated clubs/associations. As SUP VIC President, Paul Harrington serves on the AuSUP panel, regularly meeting with delegates from the other states and with Surfing Australia representatives. This time a year ago, we were patiently awaiting the implementation of Transport Safety Victoria's new Marine Safety Regulations as they pertain to stand up paddle activities. SUP VIC was of course instrumental in representing the sport and ensuring our interests and those of all SUP stakeholders were taken into account in the drafting of regulations. Those regulations came in to effect on July 1st 2012. Since they've been in effect, we've had a relatively incident free period of activity, despite some early teething problems between government departments. Naturally, we recommend that all members abide by the regulations, which can be downloaded in full from the Transport Safety Victoria website, or you can gauge an overview on our own website under the Safety tab. Also during the course of this past year, committee member Michael Jenkins produced a very thorough occupational health and safety review as it pertains to club activities. This review forms the basis of the club's risk management plan implemented at all events we run. It's worth noting that thanks to MJ's diligence, our safety procedures far surpass the requirements of land managers and insurers, with standards well in excess of any other similar sports club or association. Incidentally, MJ has also proposed a fund raising initiative to allow the club to purchase much needed safety equipment, and has offered to donate a work of art to raffle for the cause. We hope to lure other donations to help raise sufficient funds. One final note on safety issues – we've seen a couple of instances where our downwind activities have attracted unwanted attention due to misplaced concerns from beachside onlookers. As a result, water police and rescue helicopters have been sent out twice despite there being no emergency to attend to. Consequently, club members David Peterson and Phill Page have established protocols prior to commencement of downwind activities, whether they be bayside or coastal. This involves a call to authorities to alert them of plans. For more information, contact DJ or Phill. With such a strong emphasis upon racing and competition surfing this year, it was perhaps inevitable that we would lose our focus on social and non-competitive events. Regular downwind paddles of course are a mainstay of the Victorian SUP scene, and club members are exploring new and exciting options for just about every wind direction. Nevertheless, with many club members indicating an interest in participating in social paddle events, we must make that a priority going forward. Earlier this year, several SUP VIC members had the opportunity to join Queenslander Ryan Fulton on the final phase of his epic fundraising paddle from the Gold Coast to Melbourne. Our crew contributed over $1000 to Ryan's charity of choice, the Heart Foundation. The SUP VIC website has undergone a complete overhaul earlier this year due to limitations in the original software. Tim Patterson undertook the project as web manager, and the end result of his efforts is a vastly improved communications tool for the benefit of all members. In addition, the new site has provided the benefit of increased sponsorship revenue. Well done, Tim. Another significant occurrence in the past year has been the unfortunate disbanding of our sister club Bass SUP. While this has provided opportunities for SUP VIC to step up in the area of surf events, a lesson needs to be learned in terms of the reasons behind the club's demise. Largely this came down to too much responsibility falling upon too few volunteers. We need to ensure that there are always plenty of volunteers prepared to shoulder the load. On that note, and in closing, I would like to acknowledge and thank all committee members for their efforts over the past year. In particular, huge thanks to outgoing Secretary Ross McClure, founding member and club legend Dave Hunt, membership manager Janette McMaster, and committee work horses Jean Ringrose and Michael Jenkins. Your contribution to the club is very much appreciated. – Paul Harrington, President – SUP VIC Inc.
http://www.supvic.com/wp-content/uploads/2013/05/sv-agm1.jpg
400
600
SUP Vic
http://www.supvic.com/wp-content/uploads/2013/06/SUPVIC_Logo_B.png
SUP Vic
2013-06-13 10:59:40
2013-06-13 11:02:29
2013 AGM Report