REPORT & RESULTS
In what was arguably the best conditions we have seen all season, the Outlaw Paddle Battle Of Barwon Heads race was run and won today.  This race formed Race#6 of the SUP VIC / Surfing Victoria Flat Water SUP Championship Series, with valuable points up for grabs. In what was an amazing spectacle on the Barwon River, not far from the famous 'Surf Coast' about an hour and a half from Melbourne, numerous paddlecraft took to the water at low-tide, with the only challenge being finding the deep water.  A 4.6km circuit course up the river to a buoy turn, then back along and out to the river mouth was set for the SUP paddle group, with the total race distance covered being 9.4km.  Fortunately or unfortunately, depending on which way you swing, there was zero swell at the river mouth, with no runners or waves to sort out the men from the boys, so to speak.  An even playing field on all levels. A light breeze really had little affect on the race, and so it was head down and paddle in 33 degree sunny conditions. The group start meant that Ski, prone and SUP all started together, posing some interesting challenges at the start with 21 SUP paddlers and over fifty other craft all crammed in the narrow channel of the river.
First over the line was Zeb Walsh (in 1:00:13), followed by Cam Hosking (1:00:31) and Chris Clarke (1:02:21).
Masters was won by Cam Hosking, with Paul Harrington coming 2nd ahead of Leon Blachos in 3rd.
Women's race was won by Kathy Naoumidis, followed by Kristi Page and Ann Thomson.
A fantastic day, well organised and run by Outlaw Paddling, with thanks to Emma and Jarad who always put on a good event, but are rarely rewarded with good weather.  Thanks again to the SUP VIC crew who helped out on the day. Photos courtest Phil Page:
Full results below.
– Tim Patterson
FULL FINISHING ORDER:
| | | |
| --- | --- | --- |
| place | Name | Time |
| 1 | Zeb Walsh | 01.00.13 |
| 2 | Cameron Hosking | 01.00.31 |
| 3 | Chris Clarke | 01.02.21 |
| 4 | Matt Nottage | 01.05.01 |
| 5 | Paul Harrington | 01.05.24 |
| 6 | Leon Blachos | 01.05.38 |
| 7 | David Sprague | 01.06.24 |
| 8 | Michael Jenkins | 01.06.31 |
| 9 | Paul Nottage | 01.07.23 |
| 10 | Con Toronis | 01.08.20 |
| 11 | Nick Moloney | 01.09.08 |
| 12 | Bobby Furby | 01.09.37 |
| 13 | Robert Burns | 01.13.28 |
| 14 | Tim Patterson | 01.16.23 |
| 15 | Andrew Wooley | 01.20.07 |
| 16 | George Ierodiaconou | 01.21.30 |
| 17 | Kathy Naoumidis | 01.23.58 |
| 18 | Kristi Page | 01.24.34 |
| 19 | Ann Thompson | 01.27.13 |
| 20 | Shannon Foy | 01.36.30 |
| 21 | Simon Reid | DNF |
Division Placings:
MEN'S OPEN 14′:
1. Zeb Walsh 2. Chris Clarke 3. Matthew Nottage 4. Andrew Wooley 5. George Ierodiaconou 6. Shannon Foy
MEN'S 12'6″:
1. Nick Moloney 2. Bobby Furby 3. Simon Reid (DNF)
MEN'S MASTERS 14′:
1. Cam Hosking 2. Paul Harrington 3. Leon Blachos 4. David Sprague 5. Paul Nottage 6. Con Toronis 7. Tim Patterson
WOMEN'S MASTERS 12'6″
1. Kathy Naoumidis 2. Ann Thomson
MEN'S SENIORS (50+) 14′:
1. Michael Jenkins 2. Robert Burns
JUNIOR GIRLS 12'6″:
1. Kristi Page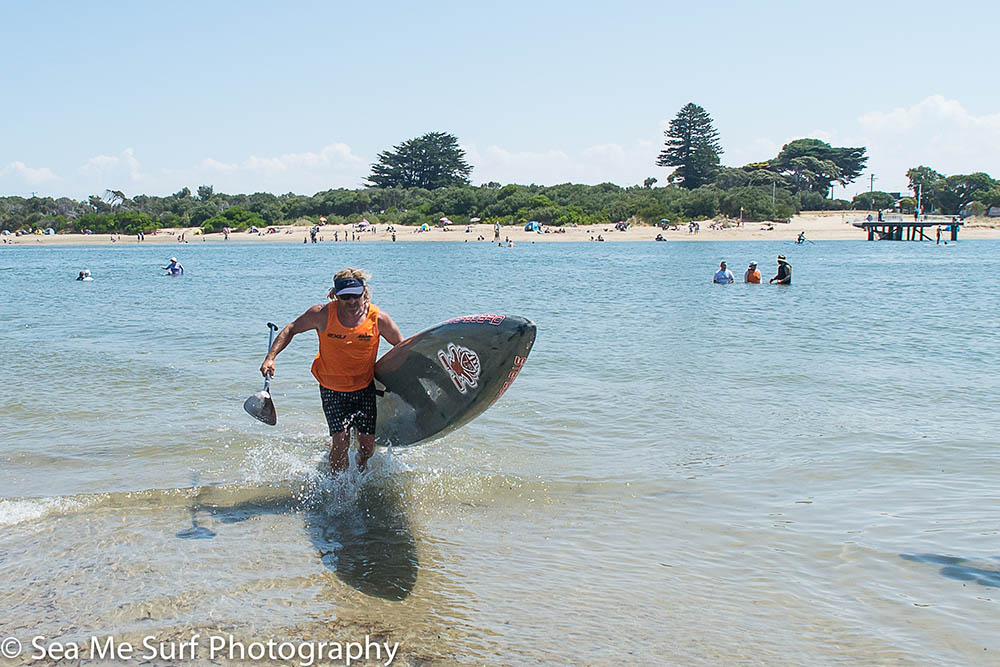 Leon dashes for the finish