Review of the Speedcoach SUP GPS with Heartrate
June 12, 2014 at 8:39pm
by Tim Patterson, SUP VIC.
When I first saw that there was a new GPS device specifically designed for Stand-Up Paddling, I was pretty excited, especially when I heard that it did accurate stroke rate and was accurate to  within centimetres. Nielsen Kellerman have a fine reputation for precision instruments, particularly in competitive rowing, so when I was offered a demo unit from the Australian distributors, Croker Oars, I jumped at the chance. I have been using for the past two years, a Garmin Forerunner 310XL, a versatile, albeit slightly chunky, workhorse unit, and my only reference point to compare against. The newest in the NK series of GPS training devices, the  
Speedcoach GPS
, is designed specifically for Stand-Up Paddle, and whilst pretty standard in its design in the rowing realm, may come as a bit of a departure for SUP users, with pros and cons, but more on that later.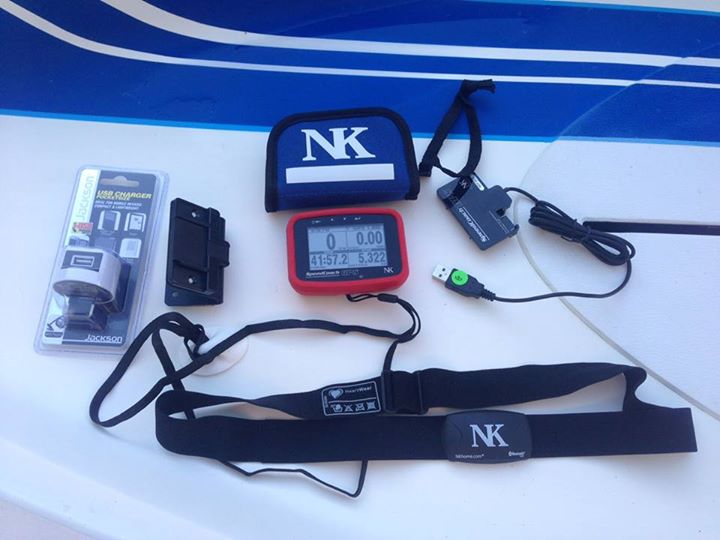 The Speedcoach GPS is designed for pretty much one thing – to accurately monitor performance and give feedback for speed, distance and heartrate.  The model I tried was the 
Speedcoach GPS With Heartrate
, so it included a chest-strap heart rate monitor that is paired with the base unit. Now the first thing you will notice is that this unit is BIG.  It is not wrist-mounted and designed to be 'docked' to a mount on your board. At first I was a bit put-off by this, but only once I got on the water, did I see the huge advantages this brings, and no-doubt it needs to be board mounted so as not to mess with the stroke-rate.  It doesn't want to measure your hands flapping around or changing sides, it wants to measure the small variations and pauses in board speed through the water.  Clever.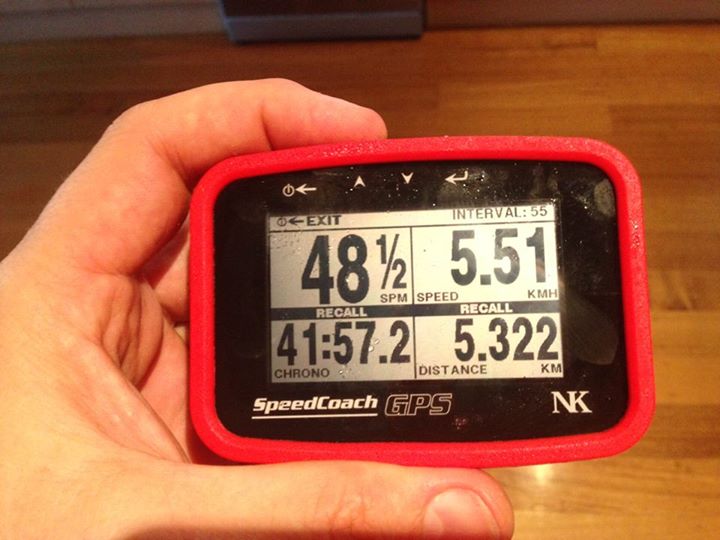 The unit is waterproof and has a thick bumper to protect from knocks.  It does not float, however, but comes with a clip-in mount that you attach to the board, and a safety tether and secondary stick-on attach point as backup. The batteries are rechargeable and promise 5-8 hrs of paddling time, depending on back-light usage. So how did it perform? Well I headed down to Sandridge Beach in Port Melbourne to meet up with our small training group, in the darkness of late summer at 6:30am, and attached the mount and unit very easily using the supplied Scotch heavy duty velcro tape (handy for removing the mount and swapping to other boards!) Set-up was simple, and it paired with the heart rate chest-band first time and quickly. So I was skeptical about the whole board-mounting thing, and it wasn't until I switched on the unit and launched into the black water in the dark that I realised, this thing has a light-sensor and auto-backlight.  Brilliant. From a normal standing position, the HUGE LCD readout, comfortably backlit, was so easy to read, it was a revelation!  I suddenly GOT why it was board-mounted… You could quickly glance down and view your distance, speed, heart rate, etc without losing a single stroke, no looking at your watch and losing rhythm, and the accuracy of the stroke-rate gave me a whole new set of tools to motivate my training.  Even at my level, I found it very useful, and having that combination of heart rate and stroke-count, I could see as a powerful training tool. Changing readout stats was pretty simple, with a 3-button menu system that was intuitive. So then after training, I wanted to share my results and there's where the limitations kicked in.  Don't get me wrong, it does what it is designed for, brilliantly, but when I got home, I was searching through the menus to figure out how to upload the data to my computer, or the internet, or… anything. So here's the thing.  Whilst the unit can hold up to 200 data points, or training runs, INTERNALLY on the unit, there is no way to sync that with a computer, convert your run to a map to use with Map My Run or similar, and no way to share your results.  What?  I can't brag my (embarrassingly slow) results on Facebook and show the world how good I am?  Huh? Unfortunately, you also can't upload to just keep track of your own progress in any way other than stored on the unit.  Is this an issue, well, for elite level athletes and trainers, which I am not, this may or may-not be an issue, but for mid-level enthusiasts who like to share and compare with their peers, it may well be.  And for the price-point, at almost double the cost of other units, well, it sort of marginalises itself. Not that I'm saying it isn't brilliant at what it does.  It just doesn't do that much. So if you are an elite athlete or coach looking for dead accurate tracking of Distance, distance per stroke, heart-rate, stroke rate, stroke count, elapsed time and average speed, then this unit is definitely for you. If you want to see your course on a MAP, share it, store it on your computer and have enough money left to buy more toys, then perhaps not. This is a quality niche product designed to do what it does in a solid and accurate manner.
Manufacturer Specs:
Wireless speed and distance for paddlers is here! SpeedCoach SUP with Heart Rate from NK Australia
Overview:
Wireless speed!
Heart Rate.
Fast, accurate and responsive GPS.
Large digits are bold and easy to read even at a distance.
Instant performance measurement.
Every performance measurement on the screen at once – 1000M split, speed, distance and time.
New LCD technology provides a crisp, high-resolution, graphical display – easy to read day or night with automatic backlight.
Rechargeable batteries provide 5-8 hours of paddling time (backlight dependent).
Includes:
Board mount
Heart Rate Strap
Angle Bracket
EZ Plug Loop
VHB Velcro
Lanyard and Carry Case.
Functions:
Distance
Distance Per Stroke
Heart Rate
Stroke Count
Stroke Rate
Elapsed Time
Average Speed
Features
200 Data Point Memory
5 Hz GPS
Automatic Backlight
Battery Charger
Lanyard
Lightweight & Durable
Protective Bumper
Rechargeable Batteries
Soft-Carry Pouch
Waterproof
Wireless
Perfect for:
 Elite athlete paddlers & coaches
Price: 
AUD$629.00
Website:
http://www.nkrowing.com.au/products.cfm?fullid=8E86139D-1A4D-44F9-2DBA01CF0AE0EBEB&id=55
Croker Oars are sponsors of SUP VIC and supplied this demo unit for me to try.  This review has been written in an impartial and objective manner without input from the supplier.
http://www.supvic.com/wp-content/uploads/2014/06/10474645_500968956671799_4371552148189353595_n.jpg
546
720
SUP Vic
http://www.supvic.com/wp-content/uploads/2013/06/SUPVIC_Logo_B.png
SUP Vic
2014-06-15 16:54:11
2014-07-06 17:11:11
REVIEW: SpeedCoach GPS SUP with Heart Rate